Seneca History: The First Time Machining (10 Year Story pt.3)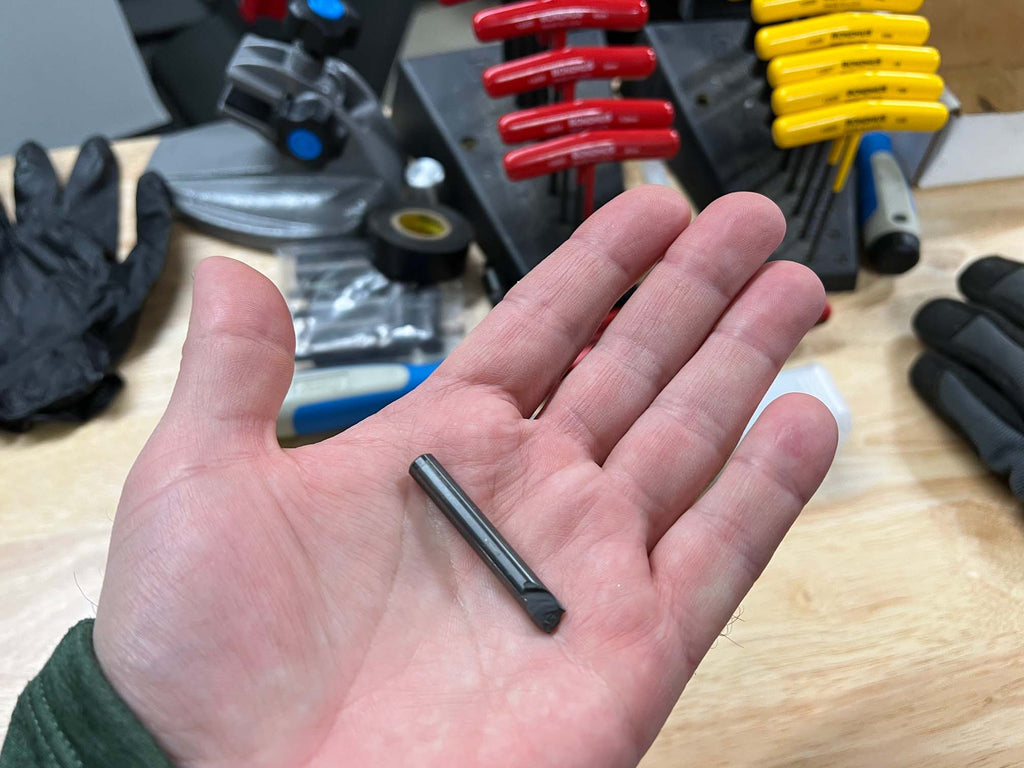 So our new Haas CNC machining center had been delivered at the end of 2016, We got it wired in and by the beginning of 2017 it was ready to go..    All the tooling and workholding had been delivered, the CAM was programmed and it was finally time to give it a go.   It's hard to overstate the amount of pressure that was riding on this moment.   Buying a CNC machining center was the biggest purchase that I had made up to this point in my adult life and the future of my business was at hand.  It was also potentially one of the most costly mistakes I could make.   If I had made a mistake in programming it and caused a crash, that could easily cost 10's of thousands of dollars for repairs and a huge setback for our business.  Because I knew that we should be making our own parts soon,  I hadn't placed the normal restock orders with our vendor that had been making them,  so if anything went wrong, we had a limited amount of inventory left to sell. 
It was finally time to machine my first part: one of our Domi-shims.   I loaded the code in the machine, put a piece of stock in the machine, and set the program to run several inches above the piece of stock.  This would let me watch the various tools work to see if they were doing at least roughly what they should be doing without actually cutting any metal. This would hopefully give me a chance to stop the machine before a crash if anything unexpected happened.     I crossed my fingers and hit the 'start' button… Everything worked just like I'd seen on YouTube dozens of times.   The machine changed through all of the necessary tools and appeared to do what it was supposed to,   so it was time to make a part 'for real'.  I set the program to run on the piece of aluminum stock, and hit the start button.   Everything seemed to go as planned…and then all of a sudden there was a loud *SNAP*.     I immediately hit the Emergency Stop button. 
Unexpected loud noises aren't something one wants to hear when running a new CNC program for the first time.  After I changed my pants, I looked at the machine to see what happened.    I had broken a tap.  Not a big deal… less than a $40 mistake and an easy one to fix at that.   It turned out I had the thread pitch set wrong in the CAM software, so the CNC machine was pushing the tap into the part faster than it could thread which caused it to break. After a quick change of the code, I ran the program again.  This time everything went as planned.  It was official:  In January 2017 we had brought production manufacturing back to Clarion!
Fully manufacturing our tools in house meant a lot more work to do, so that month was also when I hired Andy on as our first full time employee!  You've probably seen him on our social media a few times. He came on board part time in 2015 to help with tradeshows, and he's been a part of the Seneca family ever since! 
There's so much more that's happened in the last decade than I can put into words here, and we couldn't have done any of it without you, our amazing customers!  So, to celebrate this year as fully as we can, we've got many more surprises and much more content planned throughout the rest of the year. We've actually got a surprise lined up for tomorrow that we know most of you are going to enjoy, so stay tuned. We can't wait to share more, so follow us on Instagram, Youtube and TikTok to make sure you don't miss out on everything we've got coming your way!
We've got a big surprise for you tomorrow…