Introducing the Imperial Thickness Gauge for Domino DF500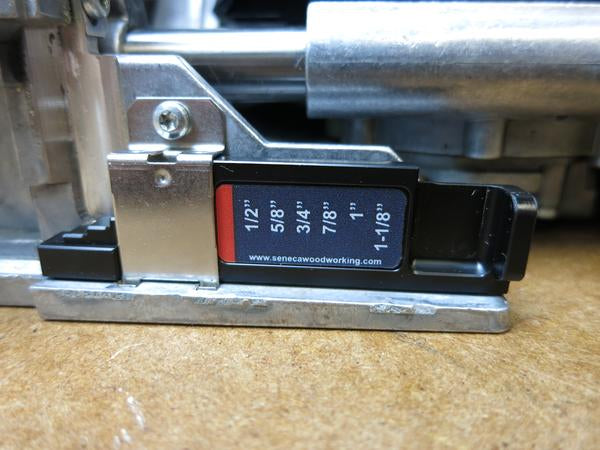 Hey Woodworkers!  Today I'd like to introduce another new product from Seneca Woodworking:  the Imperial Thickness Gauge for the Domino DF500!
The Imperial Thickness Gauge is a fast way to quickly adjust the offset of your Domino DF500 fence to center on a variety of imperial sized ply.
The gauge installs in less than a minute using a Torx T10 bit (not included), and is a direct replacement for the metric thickness gauge included with your Domino DF500.
The Imperial Thickness Gauge is CNC machined from Delrin material and designed to center on 1//2", 5/8", 3/4", 7/8", 1", and 1-1/8" nominal ply thicknesses.
We currently offer two products to create the proper fence offset for mortising imperial sized lumber.  If you primarily work in only 1/2 and 3/4" material,  The Domiplate is probably the better choice because it is a reliable way to set a specific offset and create many mortises with absolutely no possibility of "Fence drift".  On the other hand, If you frequently use material other than 1/2" and 3/4", the new thickness gauge allows you more versatility in choosing different fence offsets, but it doesn't provide that extra "insurance" against fence drift that the Domiplate would.