Introducing the Seneca Woodworking MFT Clamp Dog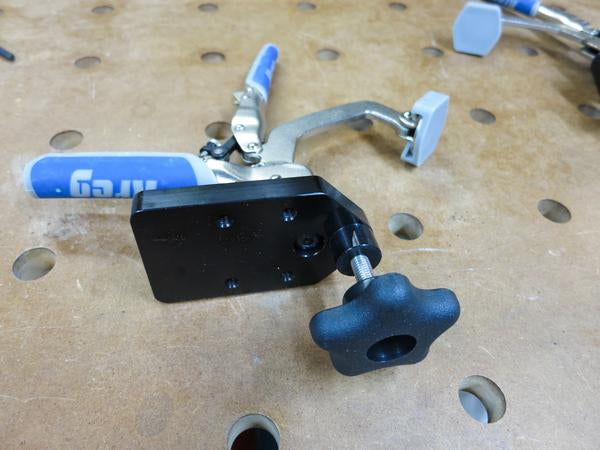 Hey Woodworkers! Today I'd like to show you a new product we just released: the Seneca Woodworking MFT Clamp Dog.
The Clamp Dog is a combination bench dog and clamp mounting plate designed for the Festool MFT tables.  The dog portion allows you to take advantage of the grid of holes in the MFT to make precise cuts. The clamp portion of the Clamp Dog is pre-drilled with mounting holes that allow you to attach either a Kreg Automaxx Bench Klamp, or a Bessey Auto-Adjust Toggle Clamp for quick, accurate clamping of your workpiece.    
Clamp Dogs are designed with the clamp mount "tangent" to the MFT dog, rather than the center. Our design also uses hole offset dimensions similar to Qwas Products Qwas Dogs and other similar MFT dogs on the market, so they can be used interchangeably for accurate positioning. 
This "tangent" design, allows the clamp to pivot around the mounting hole, rather than on top of it. This allows more usable workspace on the MFT, and also allows the clamps to be positioned at various angles for more effective clamping, while not affecting the positioning of the workpiece.  
Machined from a solid block of aircraft grade aluminum and anodized black, the Seneca Woodworking Clamp Dogs will give you years of reliable service.  Included with each Clamp Dog are mounting hardware for Bessey Toggle Clamps (Kreg clamps include mounting hardware) and a hand knob to secure it to the MFT table.  
Clamp Dogs are available NOW in our online store... Click HERE to order!