Imperial Fence Height Gauges for Domino DF700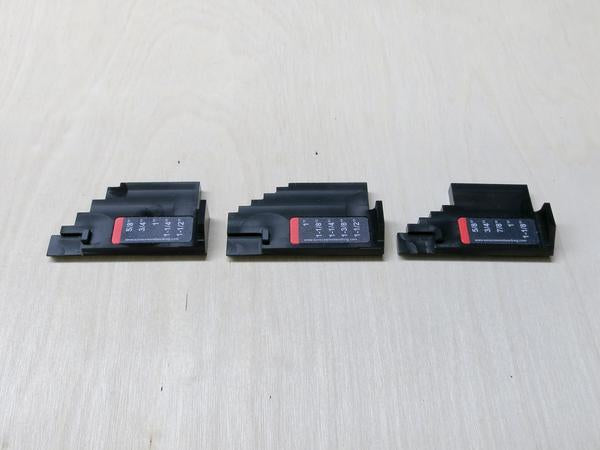 Hey Woodworkers! I just want to give everyone a preview of our new product for the Festool Domino DF700 Joiner. Introducing the Imperial Fence Height Gauges for Domino DF700
After releasing our DF500 Imperial Thickness Gauge, we had many requests for the same product for the DF700.  Developing a height gauge for the DF700 has always been our plan, however there were a few engineering decisions to be made.  While the DF500 has been an essential for working with common plywood thicknesses used in cabinet making, the Domino XL/DF700 has a larger fence height range and is used in a wider variety of applications by our customers.  This wider fence range combined with the fact that the height gauge only has 5 index positions, meant we needed to make some tough decisions on which "stops" to include in the gauge.   Our solution was to design three separate height gauges, with the following groups of fence offset stops:
Gauge 1: 5/8", 3/4", 7/8", 1", 1-1/8"
Gauge 2: 1", 1-1/8" 1-1/4", 1-3/8", 1-1/2"
Gauge 3: 5/8", 3/4", 1", 1-1/4", 1-1/2"
An important distinction to note:  The Domino DF500 ships from the factory with a "THICKNESS gauge," and the Domino XL DF700 ships with a "HEIGHT" gauge.  The thickness gauge positions the fence approximately 1/2 of the indicated dimension relative to the cutter centerline.  The height gauge indicates the actual distance from the fence to the cutter centerline.    We have also designed our DF500 and DF700 gauges as thickness and height gauges respectively. 
All three Height Gauges will be machined from Delrin material, and are a direct replacement for the gauge included with the Domino XL.  The gauge can be installed in seconds using just a Torx driver 
The Imperial Height Gauges should be available for purchase by March.  If you'd like to be notified when they are available, you can subscribe to our mailing list.